Visitor Information
ENGLISH
Facilities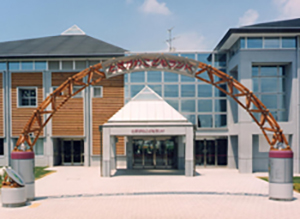 Children do not have much of an opportunity to experience nature in their daily lives, but water, greenery, and earth, so they can feel the sunshine and play with nature to their heart's content. Our aim is to go back to the basics of play, and to create a space where children can discover and create their own play, not just play with what is already in place or given to them.
Todagawa Children's Land does not have a trash can.
We ask that you please take home any diapers and waste.
Both inside and outside of the Todagawa Children's Land area are non-smoking and fire is strictly prohibited.

indoor facilities
This is a guide to the indoor facilities of Todagawa Children's Land.
The images will slide, so please see the details there.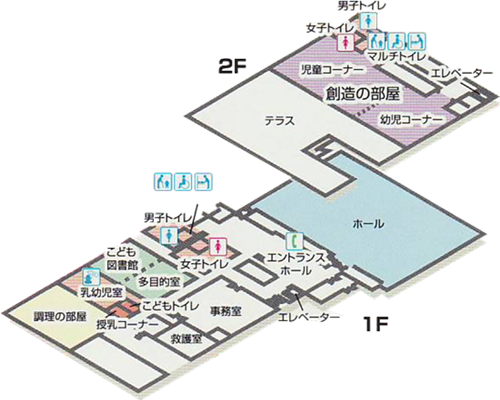 ※If you have any problems, please come to the office.
Hall(ホール)

Room of Creation(創造の部屋)

Cooking Room(調理の部屋)

Multipurpose Room(多目的室)

Baby&infant's room(乳幼児室)
Access Map
address
〒455-0873 
1-3616, Harutano, Minato-ku, Nagoya City, Aichi Prefecture
Contact

TEL:052-304-1500

  FAX:052-304-1501
map code
4097681*55
business hours
【April - September】9:00~18:00 
【October - March】9:00~17:00
closed day
Monday(※If Monday is a public holiday, the park will be closed on the next weekday.)
parking lot
584 units(Nearest parking lot, 100 cars)
Frequently Asked Questions
Children's LandQ&A
Do I charge an admission fee?

Admission to the park is free.
During the festival period, there is a parking fee. (500 yen per time)
Is there a place to eat?

You are not allowed to eat or drink inside our room, but you can eat your lunch in the entrance hall.
(You can eat anywhere on the lawn outside.)
There is a rest house in Todagawa Green, but it is only open on weekends and holidays.
Is there a place in the park where I can smoke?

Both outdoor and indoor smoking is not allowed at Todagawa Children's Land.
There is a smoking area in front of the Flower Center in the Todagawa Green, so please use that area.
Is it possible to have a BBQ in the park?

You cannot do so. Fire is strictly prohibited both inside and outside of Todagawa Children's Land.
You can have a BBQ at Picnic Square and M's Gaeden (Todagawa HidamawariKan) in the Todagawa Green.
For more information,please click here.
Can't I play on days when the park is closed?

The building, the Splashing Pad and the rides (Cycle monorail and Foot-pedal go-karts) are closed, but you can play on the playground equipment outside.
"I'm looking for a lost child." "I lost something." "I need to exchange money." "Please call a taxi."

Please contact the office on the first floor of the Main Building for any assistance.